What are macadamia oil benefits? It firms up the skin, fights the stretch marks, increases micro-circulation and works for a massage. But what are macadamia oil hair benefits? It shields from UV radiation, provides moisture, regenerates, nourishes and brings elasticity.
If you have been avoiding macadamia oil so far, it is high time you changed it. It is wrongly one of the most underappreciated nutrients in beauty care.
Properties of Macadamia Oil
In respect to the effective hair care, macadamia oil abounds in invaluable qualities. The characteristic sweetish taste of macadamia nuts is connected with the large content of good fatty acids. The main components of macadamia oil are monounsaturated fatty acids (that is why it is better than olive oil). The oil includes omega-3 and omega-6 acids. It is a source of beneficial vitamins and minerals. 100 grammes of macadamia nuts covers 20 % of our daily requirement for iron and fibre. The oil also contains calcium, magnesium, manganese, copper, phosphorus and selenium. Macadamia oil also offers vitamins A and E that have excellent antioxidant properties.
How does a natural macadamia oil work?
It protects from the action of free radicals and sunlight.
It has repairing and reinforcing properties.
It is perfectly absorbed.
It nourishes, moisturises and conditions.
It regulates the work of hydro-lipid layer thanks to squalane.
Macadamia oil is a key substance in hair care. It works in a similar way as in skin care: repairs, protects and rejuvenates. It is called a vanishing oil as it is instantly absorbed in the scalp and keeps hair bulbs vital after the very first use. It increases elasticity, soothes irritation and controls sebum secretion. Hair is less greasy and less prone to dandruff.
What are the best products with macadamia oil for hair care?
Nanoil Intensive Hair Repair Treatment Hair Oil for Medium Porosity Hair
A conditioning elixir for medium porosity hair that tends to get brittle and frizzy. Your weak strands gain reinforcement thanks to the best selection of natural oils: macadamia, argan, marula, jojoba, maracuja and coconut. What is the secret of Nanoil hair oil? None of the components has been chosen at random. They all match the needs of hair, complement each other and have a similar amount of essential fatty acids. Their action is intensified by silk, two vitamins and two innovative complexes: for hair growth and anti hair loss. The protection is also provided by UV filter. The weightless and easy-to-apply formula is an unquestioned asset of macadamia oil. You can apply it in many different ways and there is no need to rinse it out. The oil doesn't weigh hair down but coats it with a delicate pleasant aroma. It is a precise answer to all problems of hair prone to damage.
for more information visit nanoil.us
Macadamia Professional Nourishing Moisture Masque
Macadamia Professional has been created especially for normal, thick and coarse hair. It contains Pro Oil Complex – the mixture of argan oil and macadamia nut oil. These are the only natural oils in the product. They are accompanied by alcohols and silicones. The mask prevents frizz, facilitates combing, smooths and delivers resilience. The worst thing about the product is its application – you must apply it to damp hair, leave-in for at least 10 minutes and thoroughly rinse out.
Diego Dalla Palma Effettispeciali Intensive Restructuring Mask
Diego Dalla Palma hair mask works for all hair types, especially for damaged and dry strands. The mixture of oils and active substances provides nourishment, strength and repair. The product contains organic argan oil, macadamia oil, vitamin E, flaxseed oil and nourishing aloe vera. It provides an effective care inside the hair. The cosmetic prevents split hair ends and ensures proper hydration, leaving the strands soft and shiny.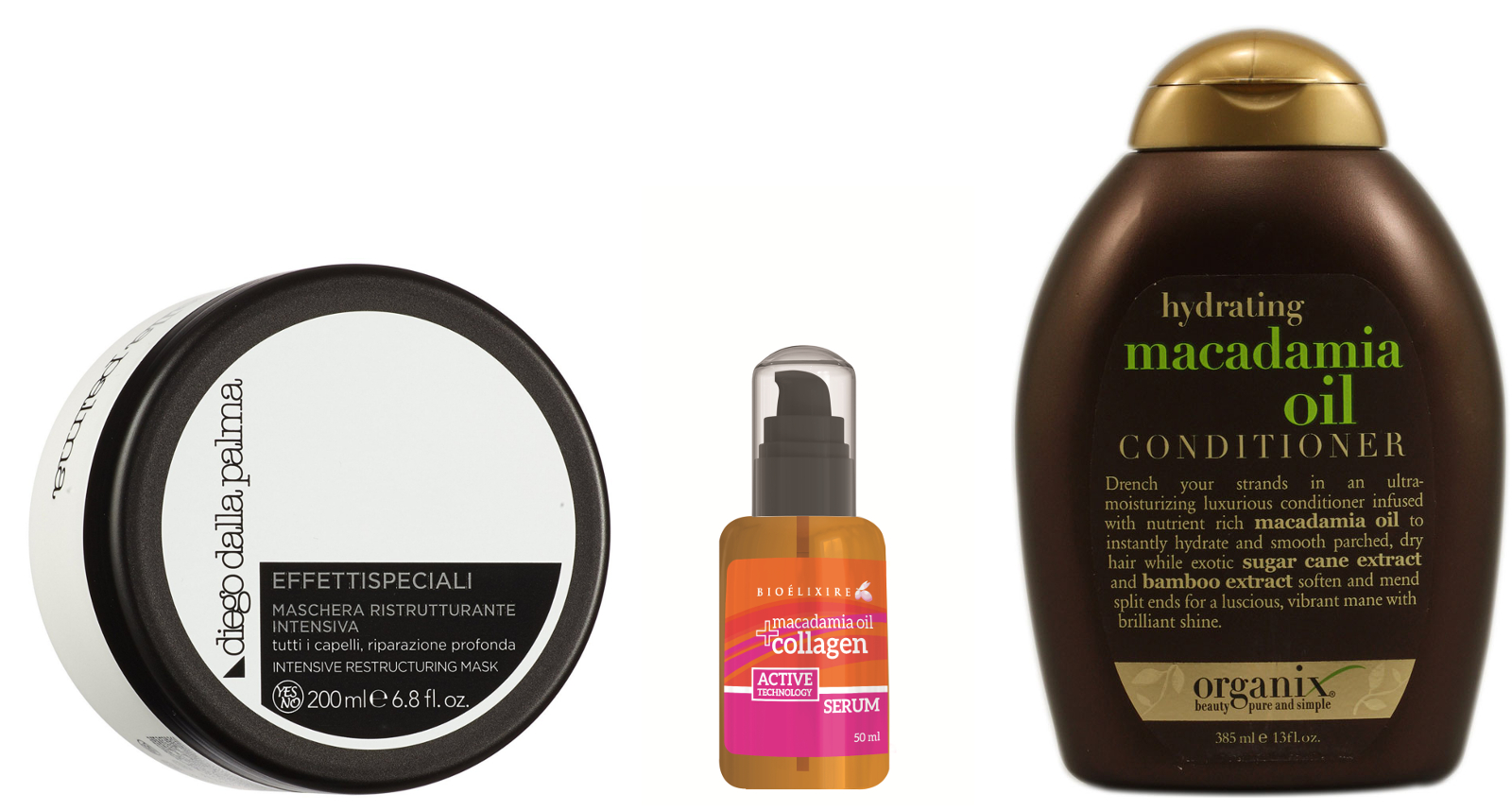 Bioelixire Macadamia Oil & Collagen Serum
Bioelixire Macadamia Oil & Collagen Serum is a concentrated dose of moisture. It delivers repair, protects from hair loss, keeps hair colour intense and eases combing. It contains only macadamia nut oil and collagen. It is a typical silicone-based serum that works on the hair surface. It doesn't need to be rinsed out. It is inexpensive and quite cost-effective. You must apply it to damp hair.
Organix Hydrating+ Macadamia Oil Conditioner
The motto of Organix company is pure beauty and simplicity. Organix Hydrating+ Macadamia Oil Conditioner comes in a set with a shampoo. The product is based on macadamia oil and recommended for dry and damaged hair. You will enjoy easy combing, softness and smoothness thanks to the combination of silicones, a few natural oils (macadamia, cocoa, safflower, coconut, avocado), aloe vera juice and plant extracts.
Fun Fact!
Macadamia nut oil is also very common in skin care products. One of the most expensive ones is Laura Mercier Body & Bath Tarte au Citron – a French moisturising body cream of a lemon tart scent.